VALUES
Maihiihi School Strategic Aim 4
Develop and sustain collaborative partnerships that support and enhance learning together.
ANNUAL OBJECTIVE
Our board, staff, and tamariki will embrace our new values system. This will become a living breathing aspect of Maihiihi School life.
Overview
A lot of work went into the development of our 'Maihiihi Learner' and the values and virtues that aligned with it. We did not want to undo this work from the previous board but continue to develop the idea until we formed a child friendly version that our tamariki could remember and openly discuss.
After much discussion, at the end of 2019, our acronym that encompassed all our important values was created. Our Maihiihi 'LEARN'-er was born.
The "Maihiihi LEARNer":
Lead / Live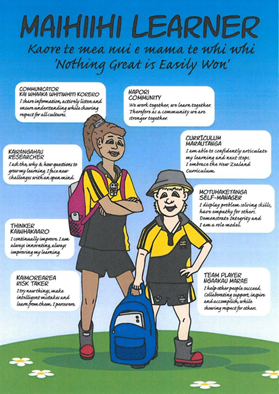 Excellence
Attitude
Respect & Resilience
"Nothing Great is Easily won"
We have aligned our new "Learn to Read- Read to Learn" programme to our values system and give our tamariki a chance to receive books as a reward when showing the values of a Maihiihi Learner.
Maihiihi School Value Tokens
We have 5 coloured tokens to reinforce and reward displays of each of our values and 2 coloured tokens to reward Kindness (Pink) and Principal Awards recipients (Gold). Once a student receives a token they put them into their house token boxes and this is used to promote whanaungatanga within house groups and healthy competitions between house groups.